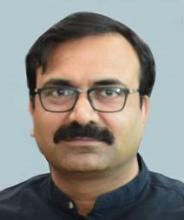 Centre/School/Special Centre
School of Biotechnology
Email
kashyapdubey@mail.jnu.ac.in
Areas of Interest/Specialization
Awards & Honours
Member: The National Academy of Sciences, India Prayagraj, Uttar Pradesh (MNASc)
Visiting Researcher under TKIC program at DoChE at IIT Kanpur
International Collaboration/Consultancy
Catholic University of Louvain, Belgium iBET, Portugal IHE, Water Institute-Netherland National Research Tomsk Polytechnic University East China University of Technology
Best Peer Reviewed Publications
MB Cristóvão, J Torrejais, R Janssens, P Luis, B Van der Bruggen, KK Dubey…(2019) Treatment of anticancer drugs in hospital and wastewater effluents using nanofiltration. Separation and Purification Technology 224, 273-280
N Srivastava, M Srivastava, BD Malhotra, VK Gupta, PW Ramteke, KK Dubey…(2019) Nanoengineered cellulosic biohydrogen production via dark fermentation: A novel approach. Biotechnology Advances 37 (6), 107384.
P Badhwar, P Kumar, KK Dubey (2019) Extractive Fermentation for Process integration and amplified pullulan production by A. pullulans in Aqueous Two Phase Systems. Scientific reports 9 (1), 32
Kumar, Punit, and Kashyap Kumar Dubey (2017) Mycelium transformation of Streptomyces toxytricini into pellet: role of culture conditions and kinetics. Bioresource Technology
Kashyap Kumar Dubey, Punit Kumar, Nikolaos Labrou, Pratyoosh Shukla (2017) Colchicine-update on mechanisms of action and biotherapeutic potential. Critical Review in Biotechnology. http://dx.doi.org/10.1080/07388551.2017.1303804.
P. Kumar and Kashyap Kumar Dubey (2016) Modulation of fatty acid metabolism and tricarboxylic acid cycle to enhance the lipstatin production through medium engineering in Streptomyces toxytricini. Bioresource Technology doi:10.1016/j.biortech.2016.01.133.
Recent Peer Reviewed Journals/Books
Ankush, Elden Rene, Mrinal K Mandal, KK Dubey (2020) Threat and sustainable technological solution for antineoplastic drugs pollution: Review on a persisting global issue. Chemosphere. 128285 https://doi.org/10.1016/j.chemosphere.2020.128285
M.B. Cristóvão, R. Janssens, A. Yadav, S. Pandey, P. Luis, B. Van der Bruggen, K.K. Dubey, M.K. Mandal, J.G. Crespo, V.J. Pereira (2020) Predicted concentrations of anticancer drugs in the aquatic environment: What should we monitor and where should we treat? Journal of Hazardous Materials 392 (2020) 122330. https://doi.org/10.1016/j.jhazmat.2020.122330
Badhwar P, Kumar A, Yadav A, Kumar P, Siwach R, Chhabra D and Dubey KK (2020) Improved pullulan production and process optimization using Novel GA-ANN and GA-ANNFIS hybrid statistical tools. Biomolecules, 10 (1) 124.