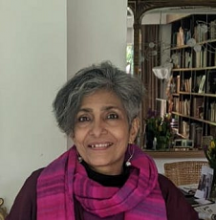 Centre/School/Special Centre
School of Arts & Aesthetics
Off. Phone
011-26742976 / 26704061
Email
paruldm@mail.jnu.ac.in, parul.dm@hotmail.com
Qualifications
D.Phil in Indology, Oxford University, Oxford, 1991.
MFA in Art History, Maharaja Sayajirao University, Baroda, 1985.
BA (Fine) in History of Art, Kalabhavana, Viswabharati University, Santiniketan, 1983.
Areas of Interest/Specialization
Indian art historiography, Indian aesthetics, Comparative Aesthetics, Gender in Art History, Art Theory and Globalization
Experience
30 years of teaching and 35 years of research
Professor at the School of Arts and Aesthetics, JNU, New Delhi, India from 2006 till the present.
Associate Professor at the Department of Art History and Aesthetics, Faculty of Fine Arts, M S University, Baroda, India from 1992 to 2006.
Awards & Honours
British Academy Visiting Scholar Award (London), 2011
College Art Association International Travel Grant (New York) 2013
Visiting Professorship at the Karl Jasper Centre for Transcultural Studies, Heidelberg University, 2012
Baden Wutterberg Fellowship (Heidelberg), 2013
Clark Art Institute Research Fellowship (Williamstown), 2015
International Collaboration/Consultancy
Member of the CAA, College Art Association, USA and the IAA, International Association of Aesthetics.
Member of the editorial board of Journal of World Art (East Anglia University); International Association of Aesthetics; Routledge Encyclopaedia of Modernism (India Editor); International Journal of Visual Culture (USA)
External Referee for Rebecca Brown on tenure track for Associate Professor at Johns Hopkins University
Project Investigator, Gender and Intersectionality on India and its Diaspora's - GRID Heritage; by ICHR/AHRC, Indo-British, 2021-2022
Best Peer Reviewed Publications
Who's Afraid of Mimesis? Contesting the Common Sense of Indian Aesthetics through the Theory of 'Mimesis' or Anukarana Vada. In Arindam Chakrabarti, ed., The Bloomsbury Research Handbook of Indian Aesthetics and the Philosophy of Art. USA: Bloomsbury Academic, 2016: 71-92, ISBN 978-1472528353.
Dave-Mukherji, Parul, "Whither Art History in a Globalizing World", Art and its Global Histories, Ed. Diana Newall with Emma Barker, Warren Carter, Kathleen Christian and Renato Dohmen, Manchester University in association with The Open University, , 2017: 39-43, ISBN: 978-1-5261-1992.
Dave-Mukherji, Parul, "Decolonizing Art History," Art History 43/1/February Oxford, UH, Boston, John Wiley & Sons Ltd, 2020: 40-42, ISSN 0141-6790 Print; ISSN 1467-8365 online
Dave-Mukherji, Parul, "Life and After Life of Sadrsya: Revisiting the Citrasutra through the Nationalism-Naturalism Debate in Indian Art History", Saivite and the Tantric Traditions: Essays in Honour of Alexis G.J.S. Sanderson, Leiden/Boston. Eds. Dominic Goodall, Shaman Hately, Harunaga Isaacson, Srilata Raman, Leiden, Boston: Brill, 2020: 569-587, ISBN 978-9-004-43266-6.
Dave-Mukherji, Parul, "Introduction to Post-Colonial Decades in Visual Art Practices", 20th Century Indian Art: Modern, Post-Independence, Contemporary. Eds. Partha Mitter, Parul Dave Mukherji and Rakhee Balaram, London, Thames and Hudson, 2022: 150-155, ISBN 9780500023327.
Recent Peer Reviewed Journals/Books
Dave-Mukherji Parul, Ebrahim Alkazi: Directing Art—The Making of a Modern Indian Art World, (edited) Art Heritage and Mapin, New Delhi, 2016: 1-364, ISBN 978-1935677680.
Dave-Mukherji Parul, Rethinking Comparative Aesthetics in a Contemporary Frame, (co-edited with R. N. Misra and with an Introduction) Indian Institute of Advanced Studies, Shimla, 2019: 1-348, ISBN: 9789382396680.
Dave-Mukherji, Parul, 20th Century Indian Art: Modern, Post-Independence, Contemporary. (co-edited) Eds. Partha Mitter, Parul Dave Mukherji and Rakhee Balaram, Thames and Hudson, London, 2022: 1-744, ISBN 9780500023327.