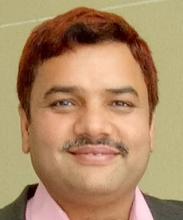 Centre/School/Special Centre
School of Physical Sciences
Off. Phone
+91 11-2678934
Email
ram.sagar@mail.jnu.ac.in, ramsagar1.jnu@gmail.com
Qualifications
Ph.D. (2006) from Central Drug Research Institute (CDRI), Lucknow, India
M.Sc. (2001) from University of Lucknow, Lucknow, India
B.Sc.  (1998) from University of Lucknow, Lucknow, India
Areas of Interest/Specialization
Glyco-Chemistry, Synthetic Organic Chemistry, Carbohydrates and Proteins, Medicinal Chemistry and Chemical Biology
Experience
Professor, School of Physical Sciences, Jawaharlal Nehru University (JNU), New Delhi (2020- present). 
Associate Professor, Department of Chemistry, Banaras Hindu University (BHU), Varanasi (2018-2020).
Assistant Professor, Department of Chemistry, Shiv Nadar University (SNU), Greater Noida (2012-2018). 
Senior BBSRC Postdoctoral Fellow at University of Oxford, United Kingdom (2008 - 2012) with Prof. Ben Davis. 
BK21 Postdoctoral Fellow at Seoul National University, S. Korea (2007 - 2008) with Prof. Seung Bum Park.
Research Associate at Indian Institute of Technology Kanpur (IITK), India (2006-2007) with Prof. Y.D. Vankar
Awards & Honours
BBSRC UK postdoctoral fellowship, University of Oxford, Oxford, United Kingdom.

Brain Korea-21 postdoctoral fellowship, Seoul National University, Seoul, South Korea.

Worked as Academic Visitor at Department of Chemistry, IIT Kanpur during 15th December 2016 to 15th January 2017.

Visiting Fellowship as Vising Scientist at ICMS, JNCASR Bangalore during 23rd May to 10th July 2019.
International Collaboration/Consultancy
· Collaborating on neurotoxin work with Dr. Yinghua Ma from Weill Cornell Medical College, Cornell University, USA.
· Colloborating on SPARC proposal with Dr. Goncalo Bernardes from Department of Chemistry, University of Cambridge, UK.
· Collaborating on glycosidase inhibitor project with Dr. Atsushi Kato University of Toyama, Japan
Best Peer Reviewed Publications
1. Triazole linked N-acetylglucosamine based gelators for crude oil separation and dye removal. Chintam Narayana, Priti Kumari, and Ram Sagar*
Langmuir 2019, 35, 16803-16812. [IF 3.68]
2. Regioselective Synthesis of Chirally Enriched Tetrahydrocarbazolones and Tetrahydrocarbazoles. Chintam Narayana, Priti Kumari, and Ram Sagar*
Org. Lett. 2018, 20, 4240–4244. [IF 6.58]
3. Stereoselective synthesis of natural product inspired carbohydrate fused pyrano[3,2-c]quinolones as antiproliferative agents. Priti Kumari, Chintam Narayana, Shraddha Dubey, Ashish Gupta and Ram Sagar*
Org. Biomol. Chem. 2018, 16, 2049-2059. [IF 3.56]
4. Design and synthesis of N–acetylglucosamine derived 5a-carbasugar analogues as glycosidase inhibitors. Chintam Narayana, Priti Kumari, Daisuke Ide, Nasako Hoshino, Atsushi Kato and Ram Sagar*
Tetrahedron 2018, 74, 1957-1964. [IF 2.65]
5. A versatile carbohydrate based gelator for the oil water separation, nanoparticles synthesis and Dye removal. Chintam Narayana, Ravi K. Upadhyay, Raman Chaturvedi and Ram Sagar,*
New J. Chem., 2017, 41, 2261-2267. [IF 3.27]
6. Chemical intervention in plant sugar signalling increases yield and resilience. Cara A. Griffiths,* Ram Sagar,* Yiqun Geng,* Lucia F. Primavesi, Mitul K. Patel, Melissa K. Passarelli, Ian S. Gilmore, Rory T. Steven, Josephine Bunch, Matthew J. Paul, and Benjamin G. Davis
Nature, 2016, 540, 574-578. [IF 38.14] (* These are joint first authors)
7. Glycal Derived δ-Hydroxy α,β-unsaturated aldehydes (Perlin aldehydes): A Versatile Building Block in Organic Synthesis. L. V. R. Reddy, Vikas Kumar, Ram Sagar and Arun K. Shaw
Chem. Rev. 2013, 113, 3605-3631. [IF 40.12]
8. Conformational Effects in Sugar Ions: Spectroscopic Investigations in the Gas Phase and in Solution. Ram Sagar, Svemir Rudic, et al John P Simons and Benjamin G. Davis.
Chem Sci. 2012, 3, 2307-2313. [IF 9.14]
9. Diastereoselective Synthesis of Polycyclic Acetal-Fused Pyrano[3,2-c]pyran-5(2H)-one derivatives. Ram Sagar , Jongmin Park, Minseob Koh and Seung Bum Park.
J. Org. Chem. 2009, 74, 2171-2174. [IF 4.84]
10. Facile and efficient synthesis of carbohybrids as stereodivergent drug like small molecules. Ram Sagar and Seung Bum Park.
J. Org. Chem. 2008, 73, 3270-3273. [IF 4.84]
11. C-3 Alkyl/Arylalkyl-2,3-dideoxy Hex-2-enopyranosides as Antitubercular Agents: Synthesis, Biological Evaluation, and QSAR Study. Mohammad Saquib, Manish K. Gupta, Ram Sagar, Yenamandra S. Prabhakar, Arun K. Shaw et al.
J. Med. Chem. 2007, 50, 2942-2950. [IF 6.25]
Recent Peer Reviewed Journals/Books
Journals:
12. Total Syntheses of Kirkamide and N-acetyl ent-Conduramine B-1. Chintam Narayana, Ashish Khanna, Priti Kumari and Ram Sagar*
Asian J. Org. Chem. 2020, 9, https://onlinelibrary.wiley.com/doi/10.1002/ ajoc.202000608 [IF 3.20]
13. Pathogen induced subversion of NAD+ metabolism mediating host cell death: a target for development of chemotherapeutics. Ayushi Chaurasiya, Swati Garg, Ashish Khanna, Chintam Narayana.... Ram Sagar,* Anand Ranganathan* and Shailja Singh*
Cell Death Discovery 2020 DOI:10.1038/s41420-020-00366-z [IF 4.20]
14. Design and efficient synthesis of pyrazoline and isoxazole bridged indoles C-glycoside hybrids as potential anticancer agents. Priti Kumari, Vishnu Mishra, Chintam Narayana, Anindita Chakrabarty and Ram Sagar* Sci. Rep. 2020, 10, 6660 [IF 4.52].
15. Cardenolide and pregnatriene compounds from the roots of Nerium oleander. Vinay K. Mishra, Braj Kishore Rathour, Sunil K. Mishra, Ram Sagar*
Nat. Prod. Res. 2020, 34, 1-5. https://doi.org/10.1080/14786419.2020.1747460 [IF 2.00]

Books:
1. Conformationally restricted glycoside derivatives as mechanistic probes and/or inhibitors of sugar processing enzymes and receptors (Chapter 20). Carine Maaliki, Charles Gauthier, Olivier Massinon, Ram Sagar, Stéphane P. Vincent and Yves Blériot,
Carbohydrate Chemistry 2014, 40, pp 418-444. (ISBN: 978-1-84973-965-8)
Publisher: Royal Society of Chemistry (RSC), London, United Kingdom.
2. Glycohybrid Molecules in Medicinal Chemistry: Present Status and Future Prospective (Chapter 11). Priti Kumari, Ghanshyam Tiwari, Chintam Narayana and Ram Sagar*
Carbohydrates in Drug Discovery and Development 2020, pp 1-35 (ISBN: 978-0-12816-675-8).
Publisher: Elsevier Publication, United Kingdom
Patents (if any)
1.   Glycoside based anti-toxin for Epsilon intoxification and preparation method thereof. Chintam Narayana, Abhishek Shivappagowdar, Ram Sagar, Soumya Pati, Shailja Singh Indian Patent 2018 (No. 201811034958).
2.   Modification of trehalose-6-phosphate level in plants. Ram Sagar, Lucia F. Primevessi, Matthew J. Paul and Benjamin G. Davis. US Patent 2013 (US9023763B2). (Granted 5 May 2015)
3.   Modification of trehalose-6-phosphate level in plants. Ram Sagar, Lucia F. Primevessi, Matthew J. Paul and Benjamin G. Davis. PCT Patent 2012 (PCT/GB12/050891).
4.   Metabolic Intervention in plant T6P Metabolism. Ram Sagar, Lucia F. Primevessi, Matthew J. Paul, Mitul K. Patel, Conor S. Barry and Benjamin G. Davis. UK Patent  2011 (No. 01107031.5) 26.04.2011
5.   C-3-alkyl and arylalkyl substituted 2,3-dideoxy glucopyranosides as potential anti-tubercular agents and a process for preparation thereof. Ram Sagar, Mohd Saquib, Arun K. Shaw, Anil N. Gaikwad, Sudhir K Sinha, Anil Srivastava, Vinita Chaturvedi, Manju Y. K. Ranjana Srivastava and B. S. Srivastava. Indian Patent (No. 0533DEL2006) 28.02.2006 (Ref. No. 0210NF2005). (Granted 05-Oct 2013, Patent No. 257469)