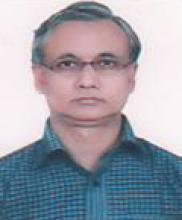 Centre/School/Special Centre
Centre for French and Francophone Studies,
School of Language Literature and Culture Studies
Email
sushantkmishra@mail.jnu.ac.in
Areas of Interest/Specialization
Semiotics, Comparative Literature, Translation Studies, Indian Intellectual Traditions
Awards & Honours
1. Young Scholar's Award by Indian Council of Philosophical Research in 1989 on Paper Written "Religion in the Age of Science and Technology" subsequently published in JNU News, April, 1990.
2. Paper awarded by the Indian Scientific Translators Association on "Role of Translation in Cultural Integration" in 1992.
3. KATHA Translator's Award 2000 for translation of Rajakamal Jha's Maithili short story into English – "Home" published in Katha Prize Stories Volume 10
International Collaboration/Consultancy
1. Research Fellowships awarded by Instituto Camões, Lisbon, Portugal in 1996-1997 for research on 20th Century Portuguese poet Fernando Pessoa.
2. Research Fellowship awarded by Instituto Camões, Lisbon, Portugal in 2001 April-August for research on 18th -19th Century Portuguese poet Almeida Garrett.
3. Contribution of 100 proverbs of Maithili language along with their phonetic transcription, French translation and explanatory notes in French in a project on collection of Indian proverbs [a Project coordinated by Prof. Bentolila, University of Sorbonne, Paris III and Prof. Shantha Ramakrishnan, JNU].
4. Member of the Editorial Review Committee of the Encyclopedia of Hinduism of Indian Heritage Research Foundation being published by Rupa Publications [Chief Editor : Prof. Kapil Kapoor]
5. Expert for the tribal language dictionary making project of Indira Gandhi National Tribal University, Amarkantak (started in 2012)
Best Peer Reviewed Publications
1. "Translation of Literary Texts: Categories for Text Analysis from Indian Traditions" published in Translation Today (Volume 8, Number 1, 2014), a journal of National Translation Mission, Central Institute of Indian Languages, Manasgangotri, Mysore
2. Article on "Sanskrtasvadhyayah – Eka Saiddhantiki Samiksa" in Sanskritavidya (2005), the Research Journal of Sanskrita Vidya Dharma Vijnana Sankaya, B.H.U., Varanasi
3. "Study of a Portuguese Text in the Model of Rajasekhara's Kavyamimamsa" in Apurva volume 11,2005-6, the Research Journal of Faculty of Arts, B.H.U., Varanasi.
4. "Vacika as Paradigm: Predisposition of Verbal Communication in Bharatanatyasastra" in Bhashacintana, A Research Journal of Linguistics, Volume 1,2006, Department of Linguistics, B.H.U., Varanasi.
5. "Les Tendances de Théories Littéraires en Inde: Une Étude dans le Cadre de Littérature Comparée" in Caraivéti the Journal of Department of French Studies (2008-2009), B.H.U., Varanasi.
Recent Peer Reviewed Journals/Books
1. Studies in Literature and Translation edited with Awadesh Kumar Mishra published by Lakshi Publishers, New Delhi, 2014
2. Enquiries in Literature and Translation (two volumes) edited with Awadesh Kumar Mishra published by Lakshi Publishers, New Delhi, 2015
3. Studies in Langauge, Literature and Culture of North East India edited with Awadesh Kumar Mishra and Sangita Saikia published by Lakshi Publishers, New Delhi, 2015