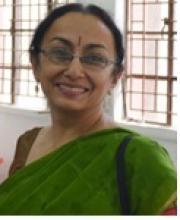 Centre/School/Special Centre
School of Arts & Aesthetics
Residence
09868901315, 09830008458, 011 26182668
Email
usmunsi@mail.jnu.ac.in , urmimala.sarkar@gmail.com
Qualifications
Ph. D. - in Social Anthropology. Thesis Topic: "Social and Cultural Context of Dance among Tribes and Peasants in South Western Uplands of West Bengal"

Research Training Programme - Centre For Studies in Social Sciences, Kolkata

M.Sc. - Anthropology (Specialization in Social Anthropology)

B.Sc. - Anthropology (Honours), Botany and Zoology.

Diploma in Dance from Uday Shankar India Culture Centre, Kolkata.
Areas of Interest/Specialization
Gender and dance; Dance - embodied experience and corporeality;Materiality and lived experience in dance; Contemporary Choreography (practice /theory interface); Performance documentation – Visual Anthropology and presentation VS representation; Politics of identity and regional performances; Performance as/led Research .
Experience
Visiting Faculty, School of Arts and Aesthetics, JNU (2004 – 2013)

Visiting Faculty,Masters Program on International Performance Research (MAIPR), School of Theatre, Performance and Cultural Policy, University of Warwick, UK (2011)

Visiting Faculty at the University of Haifa, Israel (2003)

Research Associate (UGC, Post-Doctoral Scholarship for women), Calcutta University (1999 – 2004)

Faculty (Creative Dance), senior dancer and Choreographer, Uday Shankar India Culture Centre, Kolkata till 2004.
Awards & Honours
Vice President, World Dance Alliance – Asia Pacific (2011 onward)

Resident Choreographer and Visiting Scholar - at the Residency program - Centre for World Performance Studies, University of Michigan, USA (2005)
International Collaboration/Consultancy
(2013, 2009) Programme Co-ordinator, Field Study program of the School for Contemporary Arts, Simon Fraser University, Canada, in JNU on "Arts and Culture in Contemporary India".

(2010 – 2013) Collaboration as a facilitator and choreographer with "Shadhona", Bangladesh.

(2009 – 2013) member of the International Adjudication team for Indian Dance for the Singapore Youth Festival, organized by Ministry of Education, Government of Singapore.

(2008 – 2009) Collaboration with Dr. Stephanie Burridge (Series editor, Routledge series "Celebrating Dance") on the project of collating and editing a publication from India for the series.

( 2007) Evaluator of Young Choreographer project (2007), Amrita Performing Arts, Phnom Penh, Cambodia.

(2006 – 2008) As the Network Chair Research and Documentation - World Dance Alliance – Asia Pacific (WDA AP), led an International project of WDA AP for an International publication "Dance: Transcending Borders" - bringing together dance scholars from the Americas, Europe and the Asia Pacific.
Best Peer Reviewed Publications
(2010), Engendering Performance: Indian Women Performers Searching for Identity, co-authored by Urmimala Sarkar Munsi and BishnupriyaDutt, New Delhi: Sage Publications. ISBN 978-8-132-104568.

(2010), Traversing Tradition: Celebrating Dance in India, co-edited by Urmimala Sarkar Munsi and Stephanie Burridge, India, UK and USA: Routledge. ISBN 978-0-415-61709.

(2009), "Another time, Another Space", in Dance Matters, edited by PallabiChakravorty and Nilanjana Gupta, India, Uk, and USA: Routledge. ISBN: 978-0-415-55375-9.

(2008), Dance: Transcending Borders, edited by Urmimala Sarkar Munsi, New Delhi: Tulika Books. ISBN 978-0-415-55375-9.

(2003), "Dance as a mirror of changing perceptions of socio-cultural identity: Santal and Bhumij at the face of social change.", in The Journal of Indian Anthropological Society, Special Issue in Memory of Late Prof. Surajit Chandra SinhaVol 38, No. 2 & 3.
Recent Peer Reviewed Journals/Books
(2013) "A century of negotiations: The changing sphere of the woman dancer in India" , in Women in Public Sphere: some exploratory Essays, edited by SubrataBagchi – Primus Books, New Delhi, 2013. ]. ISBN: 978-93-80607-76-4.

(2012) "Hybrid Norms? Masculine vs Feminine in Indian Dance" in Dancing Mosaic: Issues on Dance Hybridity, Edited by Mohd. Anis Md. Nor, Cultural Centre, University of Malaya & National Department for Culture and Arts, Ministry of Information Communication and Culture, Malaysia. ISBN : 978-967-0380-17-9.

(2012) "The Changing Space: Chhau as an Intangible Cultural Heritage" inThe International Journal of Arts, Culture and Heritage (iJACH), online journal of the ASWARA, National Academy of Arts, Culture and Heritage, Malaysia. 2012, (Special Edition) 1.Pp 161-178. Refereed, ISSN: 2289-3121.