About JNU
The Jawaharlal Nehru University (JNU), a Central University with a NAAC grade of 3.91, the highest in India, is a premier institution of teaching and research. JNU's mandate is to engage methodologies that cut across disciplines, whose intersections are expected to cross discipline boundaries, evolve complexities and innovate. Based on a combination of financial and technical parameters, set by a duly appointed Committee of the Ministry of Environment Forest and Climate Change (MoEFCC), Government of India, JNU has been successful to take up operations, management and conduct of animal welfare programmes at the National Institute of Animal Welfare (NIAW).

Animal awareness in JNU
JNU is part of the Southern Ridge of Aravali Hills and houses various species of wild fauna. These range from Common Palm Civets, Small Indian Civet, Indian Golden Jackal, Indian Crested Porcupine, Blue Bulls, Rufus Tailed Hare, various lizards & varieties of snakes, birds & butterflies etc.
Support for animals in communities
Various feeding spots and watering holes for dogs, birds and other animals are identified. Campus residents, as well visitors, place items for the benefit of the animals
Support for laboratory animals
To provide support for research where animal models are employed, JNU has its own animal handling mechanism [Central Laboratory Animal Resources (CLAR), JNU] The infrastructure is registered under the Committee for the Purpose of Control and Supervision of Experiments on Animals (CPCSEA), Ministry of Environment and Forest, GOI (Reg. No 19/GO/ReBi/S/CPCSEA dated: 10.03.1999) which provides professional and technical services for conduct of animal research.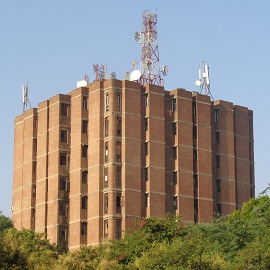 JNU Central Library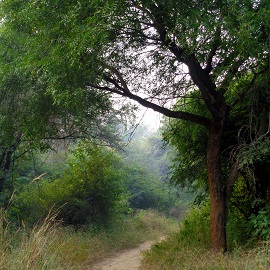 Forest inside JNU Campus
A Nilgai inside JNU campus